In 2009 I lived in Barcelona for a summery 6 weeks and fell head over heels in love with everything about this artsy, vibrant, loud & colorful city. In 2016 I finally went back and got to share the experience with my husband. It was so surreal to be back there, and made me fall in love all over again. I wanted to share some of my favorite things to do in the wonderful city of Barcelona!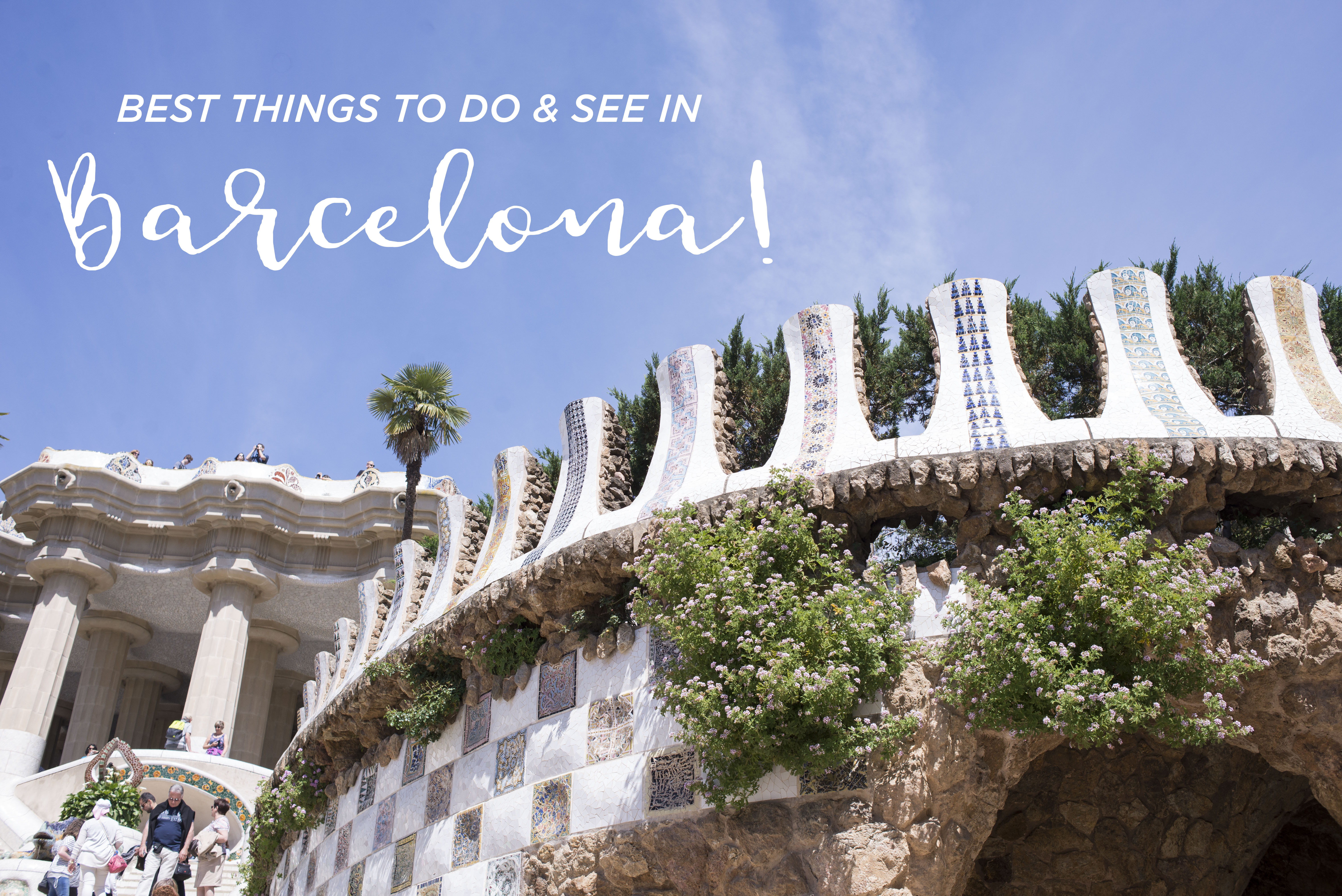 First of all, the BEST and most important advice I can give you for how to see Barcelona is to walk and wander!! Barca is a very walkable city, especially through the older parts of town and the Gothic Quarters. There are so many hidden architectural details, shops, squares and even cathedrals, you never know what you will find. If you can, stay in the Gothic Quarters – it's a great starting point for so many adventures. Check AirBnB for apartments!
TO SEE: 
PARK GUELL 
Park Guell is one of Gaudi's masterpieces. Barcelona is filled with them, but this gorgeous park was my favorite. With architectural detail, mosaics all over the place and fantastic views of the whole city (find the top of the hill with the stone cross!), it's super artsy and has plenty to explore. P.S. You can walk all around the actual park for free, but to get into the mosaic area, you need tickets, and you need to buy those in advance.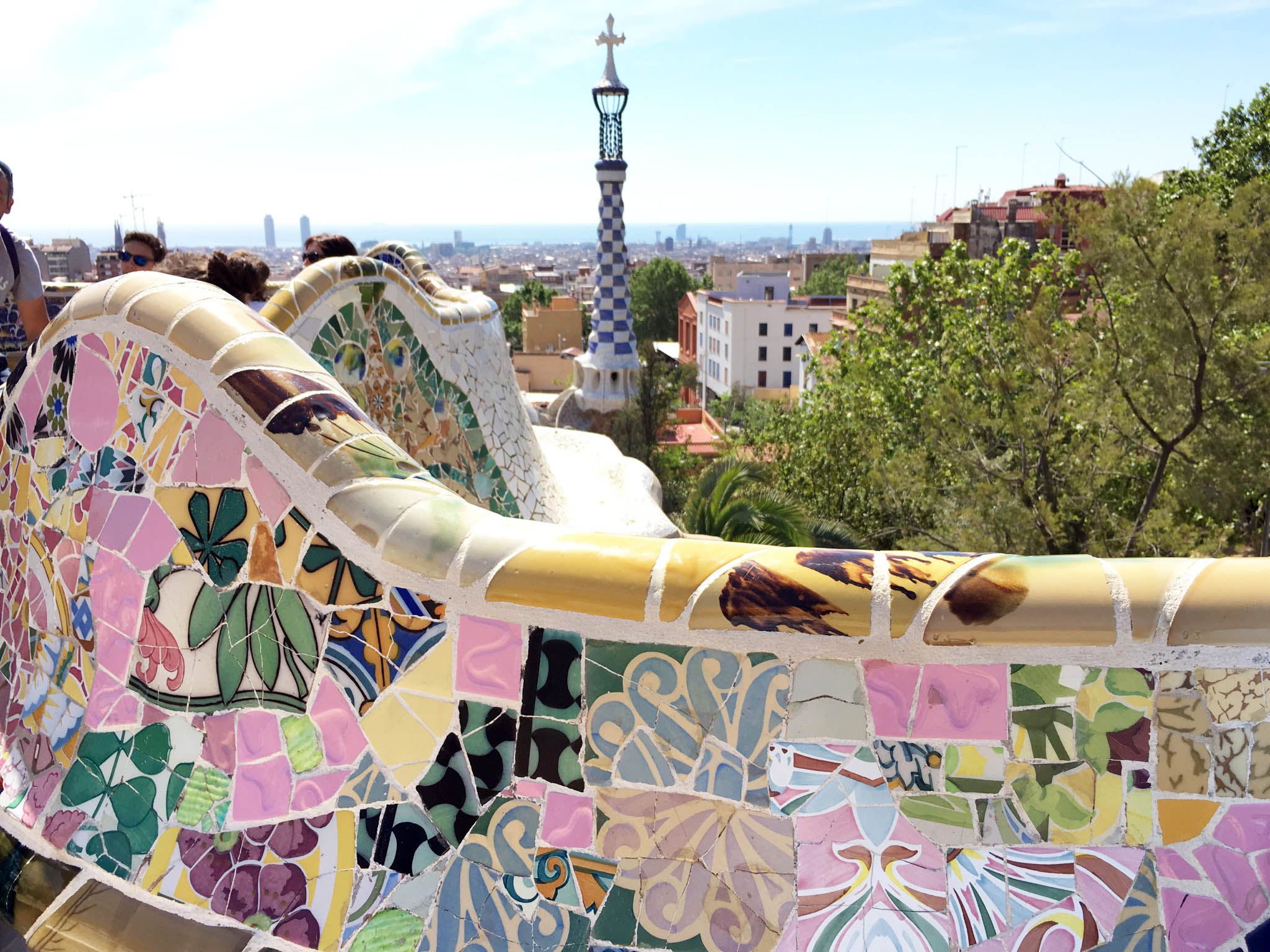 CATHEDRAL of BARCELONA
You can take an elevator to the top for an awesome view. Try to go around noon – you will get swept up in all the church bells around the whole city ringing at once.
ART MUSEUMS
Picasso Museum
Joan Miro Foundation
Poble Espanyol – a museum of Spanish architecture
Museum of National art of Cataluyna – even if you don't go inside this one, at least go see the building, it's stunning.
LA BOQUERIA 
La Boqueria is a crowded, busy, smelly, yet wonderful and authentic open-air food market.You can buy 10 apples and a whole baguette for like 2 euro. So cheap! It's a good place to grab a quick lunch or a days worth of snacks. The market is off of the famous street La Ramblas, which is very overwhelming and kind of like the Times Square of Barca. Aka, too touristy, so you don't have to stay long. Just hit La Boqueria and you're good!

LA SAGRADA FAMILIA
Another amazing Gaudi creation! Each side of the cathedral looks different. One side is very modern and geometric, while the other is kind of… well all I can say is that it almost looks like a drip sand castle. It sounds weird, but it really is beautiful! Walk around the outside and be amazed by the incredibleness. If you go across the street to the park, Placa del Gaudi, you can get a full view of the 'sand castle' side. You can also take a tour of the inside of the cathedral, but it's a little pricey to get in, so stick to the outside for a great, and free, way to experience it.
FC Barcelona game at Camp Nou
If you are in town at the right time and can catch a game, do it! One of my faaaaavorite memories from my first time in Barcelona. Exhilarating and electric and so much fun!
Before we continue, let me take a minute to remind you that walking and wandering around is the best way to experience this city. There are so many hidden gems that aren't in a tourist guide or blog post. From the tiny shops to even the insane displays of street art. Walk, walk, walk!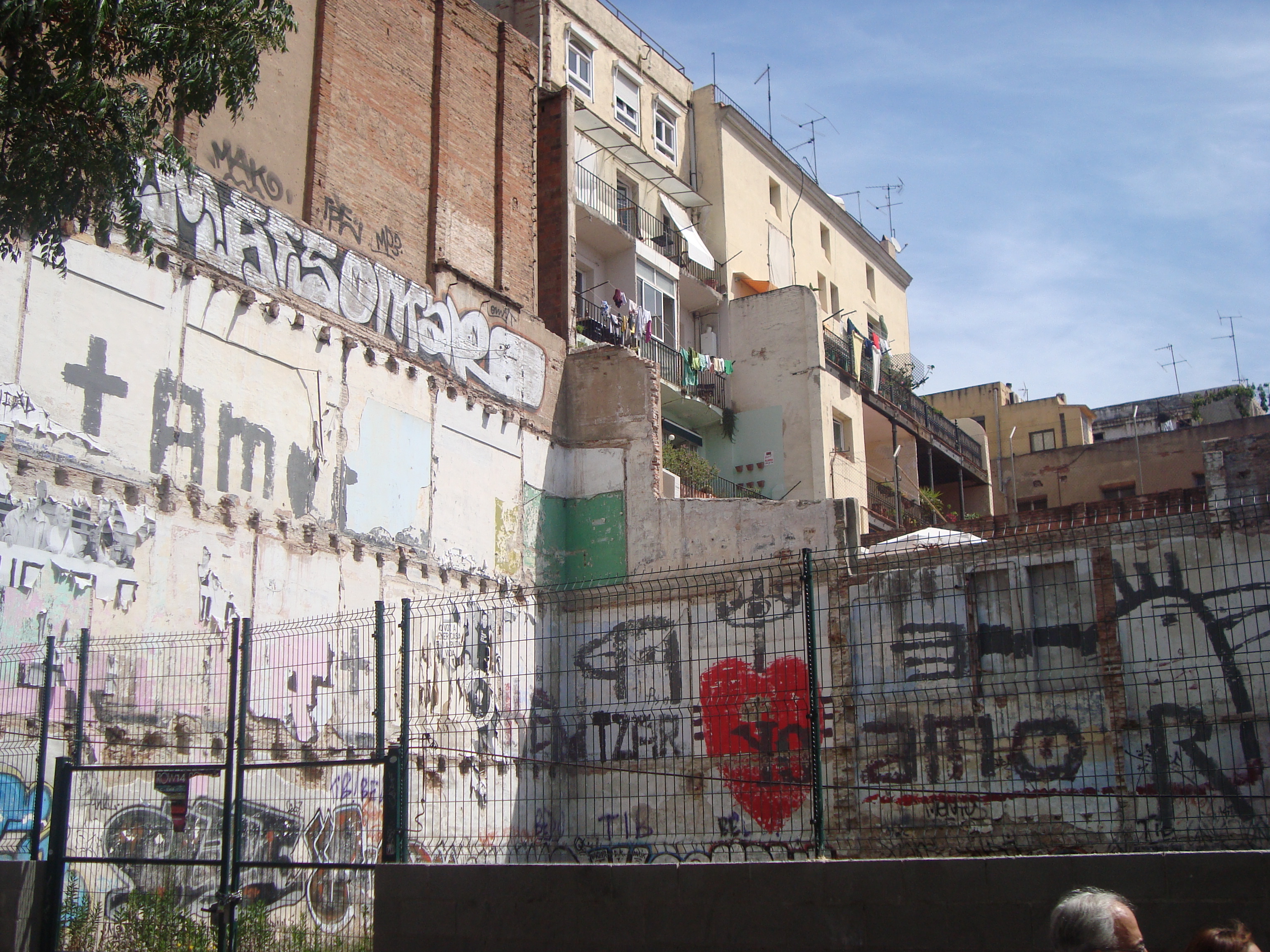 PLACES TO DRAW, RELAX &/or PLAY:
The boardwalk along the beach. Head towards the neighborhood called La Barceloneta and you'll find it. Barcelona has a vibrant beach culture – outdoor gyms, volleyball courts, of course swimming, and tons of good restaurants along the water. There's a LOT to do in that area!
Park De Ciutadella is a great place to relax & people watch It has a wonderful fountain, lots of street performers, and few cool sculptures hanging around.
OTHER THINGS:
Artsy people, bring your sketchbook! There's SO much to sketch and observe and memorize. My sketchbook pages are always my favorite souvenirs from wherever I travel, and that idea all started in Barcelona. Sitting, looking & sketching helps me take a minute to actually remember a view with my brain and not my just camera.

Drink cafe con leche (it's basically a latte, but it sounds more authentic that way 🙂 ). And eat a chocolate croissant. Preferably together. Also eat paella, tapas, croquetas, basil gelato.
I actually have a few things that are still on my Barca to-do list. Castell Monjuic is one of them, as well as taking a tour of all the various Olympic sites from the 1992 Olympics. Someday! Hopefully soon! 🙂
Talk to me! What are you hoping to see in Barcelona? If you've already been, what were your favorite highlights?